William Soutar, the Perth poet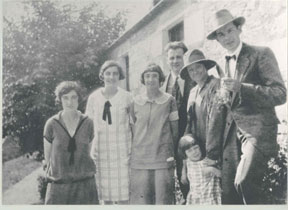 William Soutar and family

Courtesy of the AK Bell Library, Perth & Kinross Council

William Soutar was born on this day, probably the finest poet that Perth has ever produced and certainly one of the finest Scottish poets of this century. He wrote both in English and Scots but it is his Scottish poetry for which he will be chiefly remembered. In addition he kept a journal from an early age and selections were published after his death under the title 'Diaries of a Dying Man'.

He was educated at Perth Academy. "That was my eighteenth year while yet the shadow of war was unacknowledged. Then I was one of the fleetest at the Academy; one of the strongest; first in my year at most things; I was writing poetry; I was in love; I was popular both in the classroom and the playing field. I never reached this condition of living fullness again except in brief moments." This was written in 1937 when he was already permanently confined to bed.

He served in the Navy during the first World War and it was here that he suffered a form of food poisoning which affected his spine. By the time the illness had been properly diagnosed it was too late for a cure and from 1930 he took to his bed at 27 Wilson Street, Perth, lovingly cared for by his parents until his death on October 15th 1943.

During these thirteen years he continued to write, to meet friends and to remember the neighbourhood and the old worthies that he could no longer visit. Some of the most evocative poems are those concerning the town of Perth and the surrounding countryside, grouped together under the general title of Yon Toun; The Deuchny Wuds, Was the hert mair kind? The Bogle Brig and Whan Gowdan are the Carse-lands.

Whan Gowdan are the Carse-lands
Braw are the Grampian Mountains
Whan simmer licht is still;
And gowdan are the Carse-lands
Ablow the Corsie Hill.
Yonder the gowdan steeple
Spires up frae the auld toun,
And the brig wides through the water
Owre far awa for soun'.
And its easy in this quiet,
Sae gowdan and sae still,
To lippen that a' the world
And your ain hert will hale.

He remembered local worthies too; Kirsty Hogg of Dunkeld, "byord'nar fond of kale" ; Teenie Dot of Madderty; Meg Murtrie from Methven with nine children, "wha lauch't at a' mishanter" , or Jonathan Maconachie, "the beadle o' Kinclaven" and many more.

Perhaps William Soutar is best remembered for his Bairnrhymes.

Bed Time
Cuddle-doun my bairnie
The dargie day is dune:
Yon's a siller sternie
Ablow the siller mune.
Like a wabster body
Hingin on a threed
Far abune my laddie
In his wee creepie-bed.


Black Day
A skelp frae his teacher
For a' he cudna spell:
A skelp frae his mither
For cowpin owre the kale.
A skelp frae his brither
For clourin his braw bat:
And a skelp frae his faither
For the Lord kens what.

It is good to know that interest in William Soutar has revived in recent years and both his poems and The Diary of a Dying Man are back in print. His house in William Street has been renovated and is now the abode of a writer in residence.