The re-possession of Perth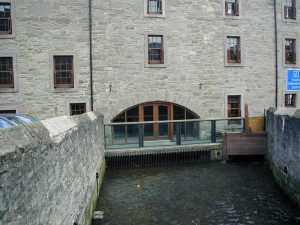 The lade used to surrond three sides of Perth

After the death of Robert the Bruce in 1329, Scotland entered another period of uncertainty. Edward Balliol, with the support of Edward 3rd of England, invaded the country and after winning the battle of Dupplin occupied Perth and was crowned at Scone. His triumph was short lived, Perth was reoccupied by the Scots and Balliol was forced back over the border.

The following year he was back again with a large body of English barons and their followers. The country was re-occupied and Balliol swore fealty to Edward as his Lord Paramount. As time went by it became more and more obvious that it was only the presence of the English soldiers that enabled Balliol to remain in control. Slowly the Scots regained the strong points within the kingdom and by 1339 they commenced the task of repossessing Perth. By this time it was under the command of Sir Thomas Ughtred and the city was strongly fortified. Surrounded on three sides by the Town Lade, it was very difficult to scale the defences and with the fourth side fronting the Tay the garrison was enabled to receive supplies from the English ships on the river.

The siege continued for over two months without any great success until five French ships-of-war sailed into the Tay estuary and were able to blockade the river. At the same time, under the direction of the Earl of Ross, a new passage was dug to divert the waters of the Lade before they reached Perth. The defenders were dismayed to find the water level in the moat dropping alarmingly, so much so that the Scots could fill up the channel with brushwood.

July 7th was fixed as the day for the final assault but before the horns could sound for action an eclipse of the sun started. There was consternation both within and without the town of Perth. An eclipse was thought to portend some great disaster though to whom was not altogether clear. It was decided to postpone the assault for another day, but Sir Thomas Ughtred had by this time already decided that further resistance was useless. He capitulated to the Scottish forces and was permitted to march out from the city with all the honours of war. He and his men were then conveyed back to England in the English ships lying in the Tay. In accordance with the old system the fortifications of Perth were once more razed to the ground.

This was now almost the end of the English occupation; the castles of Stirling and Edinburgh were soon captured and in 1341 David and his Queen returned to Scotland from their exile in France.