The Perth Glitterati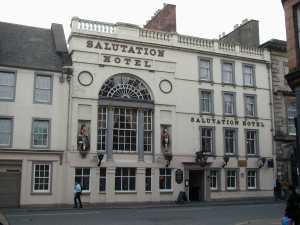 Salutation Hotel, dinner venue for Perth's cultured

In 1819 the Perth Races were still held at the North Inch, and were one of the great social events of the year.

Miss Grace Graeme of Inchbrakie, writing to Maria Stewart of Dalguise talks of the first day of the races and the Perth Hunt Ball.

"I left Inchbrakie writing on Thursday 6th at ten in the morning for the Perth Hunt Ball…..The town (Perth) was crowded, Hussars (10th) in every direction, but none of our friends, how I dislike travelling alone at this time, when groups of gentlemen are seen from end to end of the street; the gentlemen on the steps of the George Inn were Abercairny (Charles), and John Belches, the latter very grave and in deep mourning for his mother, but kind and attentive as ever. Mrs Oliphant had not yet arrived so forthwith I preceded to my room. Mrs O did not arrive till near one and introduced me to Miss Ellis an heiress, who was one of her party. Miss Ellis is very nice, superior to most heiresses, unaffected, £30,000 and from her manner you would not think she had thirty pence, very travelled, charming manners and good eyes, but not pretty, there is a woeful lack of beauty.

It was now time to go to the races; Mrs Oliphant, Miss Greg and I went in the Condie carriage, Laurence accompanied Miss Ellis in her own chase. The race was a gay scene on the North Inch, the woods and the river Tay very beautiful. The Abercairnys were the greatest dashers there, a carriage and four, two outriders, two postillions and two footmen. Charles himself and Mrs Moray, dressed in white muslin over white tafety, covered with white lace veil and abundance of ostrich feathers had a fine effect as the wind waved them about. Capt Grant of Kilgraston had a dark coloured carriage, driving himself and two of his brothers. Allan of Inchmartin, the man that wants a wife, an insufferable dandy, stays longer and tighter than gentleman's stays are wont to be. He has two boys in red on white horses dangling after his phaeton; the boy is very ugly and I don't like him. But who in the world was first to greet me but Dalhoshny and your admirer the Portuguese; Robertson of Tullybelton, our tres aimable cousin, in a green coat, a peruke and tail of the last century, drove two cream coloured ponies over the ground, he appears a singularly wild and beautiful person. We were on the stand for some time, Lady Murray and her daughter were there. I had considerable flirtations with the elder married men, you know it is my way. I spoke to Sir Peter the Member, Capt Grant, the Aber's and all the rest, Lord Kinnoull and Capt Yates with lots of officers of the 80th . I was again introduced to the Laird of Airth who is old, nearly sixty, not noisy, funny enough but I don't like him any better; I looked out my eyes for the Stewarts of Grandtully. I went round the course several times with Miss Ellis; she knows Lord Byron and all the litterati of the day; there was a dark haired, dark eyed, handsome figure amongst the 10th Hussars, he was the handsomest man I ever saw Sir Harry Floyd…. After the races Robert Grant attached himself to our party, he is a fine lad.

We dined at the Salutation; I spoke to Dalhoshny as we went in. Few in the room as we entered but Catherine Threipland, her father, mother and sisters, they were in white, blue ribbons and sashes, gypsy hats lined with blue and blue gloves. All blue outwardly you'll say, they looked very pretty. Lady Mary Murray and Miss M (Octertyre) were in pale blue Highland bonnets. My dress, black satin gown, and Spenser flying open, below which white muslin body trimmed with lace and lace frill, black satin Highland bonnet and black feathers. There was only one vacant chair which Lord Kinnoull very politely handed me to. When the room was full the 10th began to appear. We had all the 80th on their way to Dundee. I went to dinner with Craigie the Advocate, and separated from the rest of my party; he was stupid but it could not be helped"

(After dinner) "I came to the George with the Craigies. All the young ladies were in white except the Threiplands in blue. Mrs Moray Abercairny pink crepe over satin, three rows of deep lace, pink turban and diamonds, her dress was the most expensive in the room, she looked well and danced a good deal, her husband would not allow her to waltz; these were introduced late in the evening and only a few couples stood up. I thought C Threipland the prettiest girl but figure not good. Sir Henry Floyd of the 10th the flower of the beaux; very handsome with dark hair, a forehead of reflection, no want of expression there, a stately and elegant figure.

With no partner was I so much pleased with as with a partner with the horrid name of McQueen of the 80th , tall, handsome, a little like Meade, very animated, he had been in Scotland only six weeks and was delighted with it; he was very enthusiastic about the fine arts. My next partner was an impudent young man, Mr Connachie an Advocate. Dalhoshny had on one of his prim faces and stood staring at the foot of every dance.

Mr Graham and I led off 'Miss Dalbreck', the best tune that is danced. He is bald and more quiet and more decent like than I expected; sundry jokes from the Morays and Sir Peter about him being so gay; I declined a quadrille and he sat out a tete-a- tete, I having little to say."

Miss Graeme was engaged twice, to Dalhoshny (General Sir John McDonald) and Colonel Sinclair, both engagements were broken off and she never married.